You must have a commercial driver license with a HAZMAT endorsement before driving vehicles carrying hazardous materials which require placards. To get the endorsement, you must pass a written test in English about the hazardous materials transportation rules.
Our CDLPass test preparation software will help you take and pass the Hazardous Materials test.
By studying using our software, you will learn to recognize hazardous cargo, to contain the material, and to communicate the danger.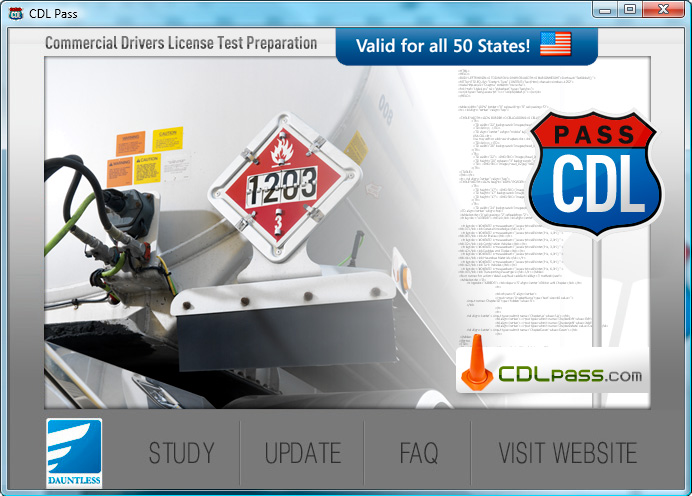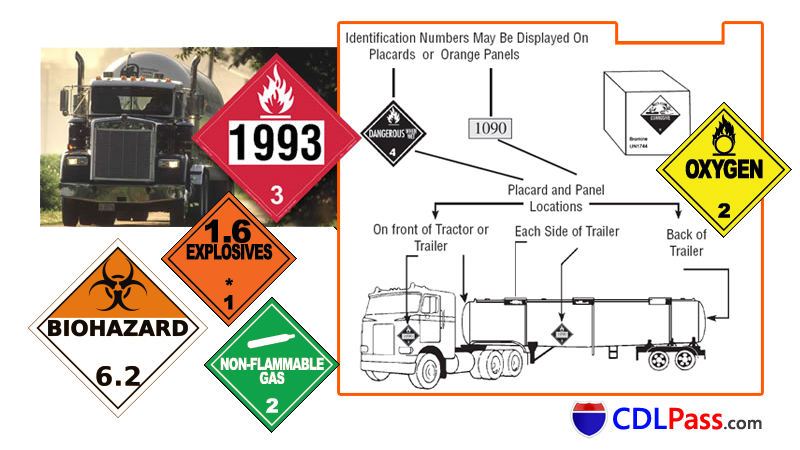 You can learn more by reading the rules in state and federal regulations. You can also learn more by attending training courses offered by your employer or others. Every employee who transports hazardous materials must receive training to recognize and identify hazardous materials and become familiar with HAZMAT requirements. (49 CFR 172.702, 172.704, and 13 CCR 1161.7) Government and industry publishers sell copies of the regulations. Union or company offices often have copies of the rules for driver use. Find out where you can get your own copy to use on the job.
In addition to the general HazMat training requirements (49 CFR 172.700–172.706) and repeated training every three years, drivers are also required to be trained in function- and commodity-specific requirements (e.g., flammable cryogenic liquids or Highway Route Controlled Quantities [HRCQ] of radioactive materials.)
Permits. A permit or route restriction may be required to transport some classifications and quantities of hazardous materials. Contact your local Highway Patrol and the U. S. Department of Transportation for information. Permits and registrations may also be required for hazardous waste and medical waste transportation. Contact the Department of Toxic Substances Control and the Department of Health Services respectively, for information
If you apply for an original or renewal HazMat endorsement, you must undergo a Transportation Security Administration (TSA) federal security threat assessment (background records check). You start the TSA background records check after you apply for your CDL at DMV, successfully complete all appropriate law tests, and submit a valid medical form. You must submit fingerprints, a fee, and any additional required information to one of TSA's designated agents. You must also provide the TSA agent with a copy of your CDL permit and one a number of acceptable IDs.

Get the CDLPass software and apps below.
CDLPass Commercial Drivers License Preparation software for iPhone/iPad
CDLPass Commercial Drivers License Preparation software for Android OS
CDLPass Commercial Drivers License Preparation software for MS-Windows
CDLPass Commercial Drivers License Preparation Audio