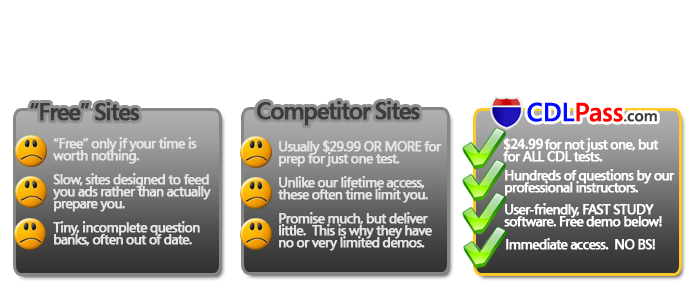 You've found it! This is the home of that really good and very inexpensive Commercial Driver's License test prep that you've been hearing about and that has helped thousands of people in all 50 states get their CDLs quickly and easily. Stop wasting your time googling trying to find that elusive "free" CDL prep - the sites that claim to offer this are mostly in the business of showing you ads, thus trying to get you to visit their sites and spend a lot of time frustratedly clicking without accomplishing much useful studying. Our CDLPass software, on the other hand, just works. It's inexpensive because it's popular (cheaper even than books!), has a ton of study and learning modes, and is actually designed to get you on the road quickly.

"I passed on the first try and only missed two questions on the real test. Your software is a super study tool; well worth the money!"
- JH
Taylors, SC
"I purchased your CDL study tests just over a week ago, then studied hard over several days. I just wanted you know that I passed the three tests I needed for the class B (bus driver) with flying colors today. Could have not done it without your help and exacting question simulations. All but three of the questions presented actually appeared on your simulations- you guys ROCK! Thank you folks so much for your help- keep up the good work-"
- CT
Trinity, FL
"I recieved a General Knowledge score of 97 on my actual test. I believe the score was the result of the Dauntless study software. The Dauntless software mirrored the actual test questions, and the format is easy to use and helped me to retain what I learned. The software is a great value and I would tell anyone thinking about getting a CDL to get this software."
– GP
Manasha WI
"I would like to say thanks CDLPASS because your program helped me to pass the written test. I'll certainly be referring friends to you. because your program really does work!"
– TB
Poughkeepsie NY

The total cost for our service is as low as $24.99. Other websites charge between $60 - $200. We actually have as many OR MORE questions in our material / database than those other guys do (for example, sites typically have a General Knowledge test bank of about 260 questions - ours has over 300 since it better covers a number of variations that exist in several states). Unlike them, our questions are current and valid for 2023 and are regularly updated. Additionally, all of our questions feature explanations (many illustrated) taken from official DMV material and our own staff of experienced driver editors. Don't underestimate the value of this - it's much easier to learn the stuff well when you have explanations to help clarify key points for you.
Most people study with our stuff for a few evenings and then go take and pass their tests at their local DMV in a matter of 10-15 minutes. Ours is a proven system that works.
Our CDLPass software will prepare you for ANY or ALL of the following CDL Tests in the LEAST TIME and LEAST HASSLE of any product available, period. But, you don't need to take our word for it. You can download it and give it a try, FREE, below.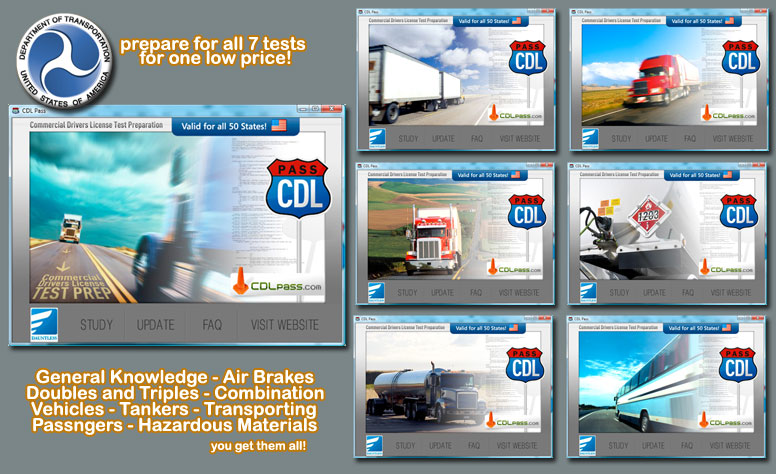 | | |
| --- | --- |
| | Can prepare you for most CDL permit tests (also known as written tests, knowledge tests, computer tests, and so on) using questions identical or nearly identical to those seen on actual CDL tests. Works for CDL licensing in all 50 states! |
| | New, updated version features complete, up to date test banks (current for 2023), and more study and learning modes than ever before. |
| | UP TO DATE (current for 2023!) and UPGRADES ARE ALWAYS FREE TO REGISTERED USERS. Live update functionality is built-in so that you can always get the latest and greatest content quickly and easily! |
| | Best value-for-money / time efficiency rapid test prep method, period. Read the fine print! We offer you for one low price what others who claim to be "low price" charge per test! |
| | Try before you buy - it's shareware! |
| | Every chart, schematic, and figure that you need to reference is included. Questions are categorized and organized so that you study only what you need to study. |
| | Cheaper than most books, faster than them all. |
| | Sure, it's a little bit more expensive than "free" prep websites - but only if your time is worth nothing. Otherwise, CDLPass comes out way ahead. |
| | Works on all modern MS-Windows systems including XP and Vista. |
| | Hundreds of people have passed their tests quickly and easily with this software. |
You get software that will prepare you for ANY or ALL of these tests: General Knowledge, Air Brakes, Combination Vehicles, Doubles and Triples, Hazardous Materials, Tank Vehicles, and Transporting passengers for only $24.99. It's a great deal - much less than what competing software or books cost, to say nothing of expensive classroom courses! This software has helped many people get on the road and into that job quickly and easily.
However, don't take our word for it! The software is FREE to download and try out below. You only need to pay if you decide that you like it and it works for you. This is a fair and good system that puts the burden on us to make quality stuff. We're confident that once you see the software, you'll quickly see, like many other happy new CDL holders before you, that it's a valuable and inexpensive tool for CDL success.

Get the CDLPass software and apps below.
CDLPass Commercial Drivers License Preparation software for iPhone/iPad
CDLPass Commercial Drivers License Preparation software for Android OS
CDLPass Commercial Drivers License Preparation software for MS-Windows
CDLPass Commercial Drivers License Preparation Audio


Sample CDLPass Questions:

Are these the actual questions that I will see when I go to take the test?
These questions are highly likely to be either the exact same questions or very very similar to those when you go to take the actual test in your state. The reason for this is because the "core material" for the questions is generated on a federal level (Department of Transportation, Federal Motor Carrier Safety Administration, etc). However, individual states do have leeway to vary the individual questions. For example, a given state might turn some questions that we have as multiple choice into true-false. Another state might change the wording on a given question or ask it in a slightly different way.
What about printouts?
The software has plenty of printouts. You can print out the questions. You can print out result sheets to show your friends. You can even print out lists of questions in a "book" form to study from when you're away from the computer.
I don't understand - will I get a CD-ROM or anything else in the mail?
No. The way it works is like this: You download the software and try it on your PC. If you like it and it works well for you, please purchase an unlock code from this website. Apply this unlock code to the software (click on "activate" from the main menu) to transform the demo version (where you will have access to only 5% or less of the questions) into the full version (where you have access to all of the available questions. There is NO CD-ROM or any other "hard copy" involved.
Will the CDLPass software work on my Mac?
This software is for Windows PCs only, though some Mac users have reported success using "windows on Mac" tools such as Fusion and Crossover. Unfortunately, we can not provide support for such operation. If you have a Mac and have such a crossover tool, please do by all means try it out and see if it works for you!

Which tests do I need to take? Do I need a class A, B, or C license?
One of the neat features of the software is this: you tell it what vehicle you want to drive and which state you want to be licensed in, and the software will present you with exactly the tests and license that you need to study for. Of course, you should always confirm this with your state Department of Motor Vehicles' (DMV) website for best results, but so far we've had no real problems with this.
How do I apply for a CDL?
This answer, from the Arizona MDV (DMV) is typical, but check with your individual state's DMV/DOT to be sure.
First, you need to study for your permit written test*. You will also need to have a physical examination, which can be given by any licensed physician. If your doctor does not have the DOT Physical Examination form, a blank form can also be obtained at any MVD office. After having the physical examination, you may then go into any MVD office for the written examinations, passing the written examinations, an instructional permit is issued for you to learn how to drive a commercial motor vehicle. This permit is good for six months. You will be required to take a road test in the type of vehicle representative of the class of license for which you are applying. Your social security number will be verified at the time of application for the instruction permit.
* that's what our software and your state's CDL handbook are for!
Is this software current? How do I get updates?
Our editors work hard to update the tests questions and content when feedback comes in from users like you and when DOT test banks change. While this doesn't mean we can always have 100% of the questions you will see on your actual test (no test prep company can claim this - a few do - they are basically lying to you due to the way that DoT question update cycles work and because the DoT occasionally throws in a few upgraded "experimental" questions), it means in practice that we're always about as current, if not more so, than any test prep source. As of right now, our test banks are, according to our editors' research, current for 2023. What makes our solution particularly good is this: updates are built-in and free for life. If you buy a book, you'll basically never get free updates. If you subscribe to some website, they'll most likely give you a time-limited subscription that expires in a few months. With our stuff, whenever you use the software, all you need to do is click the "update" button (it takes about two clicks) and the software will automatically check our servers for the latest version of the program and data. If there's something new, you're welcome to download it (it will download with a minimum of work on your part) FREE. This means that the software will be ready for you. This also means that, for example, a few years down the line, if you need to take another test to get another license or endorsement, the software will be ready for you. Now, to be clear, this doesn't mean that we're committed to updating the software, say, a century from now. But, it does mean that when we do updates, you will be able to get them free. We have been doing this now for several years, and in our parallel FAA aviation test prep for over a decade.
Is this software everything that I need to study for the CDL written tests?
Generally speaking, yes, this software is all that you need. However, for best results, we strongly strongly recommend that you also get a printed copy of your state's CDL Licensing and Test Preparation guide. These are available free at your DMV. You can use your state's guide as a complement to our software in that the guide may explain things better or highlight things that are particular to your state (like what do do if you get caught in a lava flow in Hawaii!)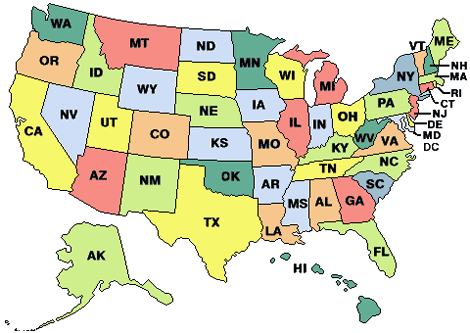 Here are a few sample CDL written guides. You will notice that they are quite similar to each other. Again, this is because CDL knowledge test material is basically organized on the Federal level (and through AAMVA). For the most part, all the different states do is put their state name and logo on the cover and make cosmetic and formatting changes. You might notice that the pdf files below have different "years." Most states don't necessarily update their CDL manual every year. So, a 2019 manual might be perfectly valid and current in 2023. Rest assured also, that when new manuals come out, in practice not very much changes. For the most part, you could be studying with a 2013 manual today and still do ok. Not great, but ok.
Remember, however, that these guides are not really sufficient to prepare you for the test since they don't provide anything but a modicum of sample questions. Our software provide MANY MANY more questions and feature a large number of study and practice modes.
Where do I go to take the test?
This depends upon your state. In general, your first point of contact for this will be your state's Department of Motor Vehicles (DMV) or Department of Transportation (DOT), just as if you were going to get a regular driver's license. States vary on the procedures for taking the test, but generally you can expect to take the CDL test at the same place where you took your regular driver's license test.
Why don't you offer a "passing" guarantee?
This is a gimmick used by some sites. It sounds good in theory, but is useless in practice. Here's how it works - some site claims that if you don't pass your CDL within X number of days of using their course, that they will refund your money. Sounds good, right? Well, hold on there, partner. Let's be realistic. All test prep methods - be it books or software or websites, more or less offer the same content. We admit it - our questions are pretty much like those you'll get at websites costing a lot more money. They have to be! After all, actual tests themselves are constant. In practice, whether or not you pass depends OVERWHELMINGLY on the amount of time and effort you spend studying. If you're serious about getting your CDL, such a "guarantee" is basically you subsidizing the lazy student. More to the point, places that do offer such a "guarantee" - if you read the small print, you'll find that actually they often require you to do all sorts of nonsense to get that refund - such as sending in a notarized copy of your notice of disapproval - which is ironic, since in many states you don't even get a printed failure notice - rather, the computer-based testing system only gives certificates of passing to those who pass and an on-screen message to come back another day to those who fail. Sneaky, eh? Our software is a less expensive and more efficient way to study.